Go back
Co-creation workshop at ESNI
27/09/2023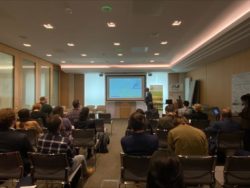 Last Wednesday 20/09, we organised a co-creation workshop at the #ESNI2023 conference in Brussels, joining forces with the #Nutri2Cycle project, targeting various stakeholders in nutrient #recycling.
We had an interesting exchange of information with several participants about optimising #nutrient flows and budgets in sustainable agriculture, discussing mitigation measures, KPIs and modelling.
A sincere thank you goes out to the Biorefine Cluster Europe. In collaboration with Ghent University, Yara International, PwC, ARVALIS – Institut du végétal, BETA Technological Center, Wageningen University & Research, RISE Foundation, SLU – Swedish University of Agricultural Sciences, Nutriënten Management Instituut and Research Institute of Organic Agriculture FiBL
More co-creation sessions are on their way.